I don't want to sound so biased, although I might be am, but oh well...
here's
my thoughts, and what impressed me about Korea.
I know some people are just tired of all the Korean wave that's going on right now. Like everything is suddenly directed to and from Korea, from fashion to make up to
entertainment
and even education and technology.
Anyway, having the chance to visit the said country myself, I dare to say it was an awesome country that gave me so many things to learn from.
I love how Korean are so in love with themselves.
The nationality, it is really high, and it was reflected on their daily life. When I was in the subway, all cellphones I saw was either samsung or SKY, in which both are made in Korea. Of course there were blackberrys and iPhones, but I noticed if someone have blackberry/iPhone he/she has two phones, and the other will be either samsung or SKY. On the street, majority of the cars were Hyundai and KIA, which, of course, were made in Korea. You see what I mean with korean loving themselves? Their cosmetics? Of course made in Korea.
I love how Korea is a mixture of modern and ancient.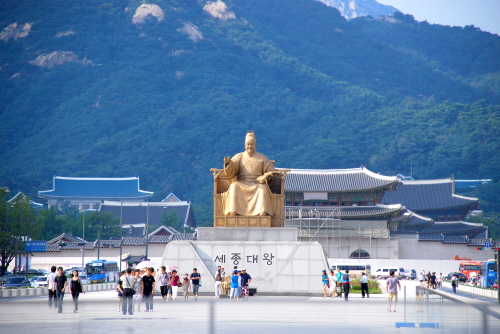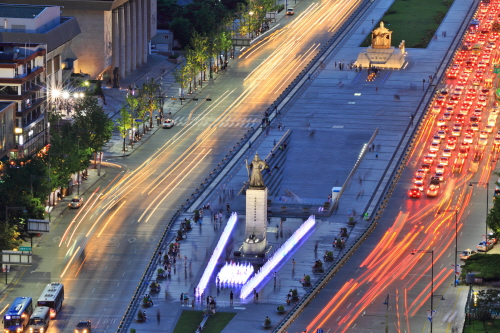 The fact that they're not forgetting their roots, I just love it. As a student from the faculty of cultural study, I couldn't help but being so proud with Korea. Despite their technology (which was super awesome for me), they still manage to maintain their love for their culture. The Gyeongbok palace located in the middle of the city, surrounded by tall buildings and still doesn't lose its aura. The huge statue of King Sejong (the most notable King in Korea's history) in front of the palace was enough proof. The fact that the youngsters and tourists can have fun there, showed me how the government tried their best to introduce their culture to basically everyone.
I love how they make every place as a visit-worthy place
Han river is only a river, which I believe every country has. But they smartly made a park along the riverbank so people can enjoy whatever it is on the river (which practically nothing, really, but it makes a nice place to stroll around). There are also a water performance in Banpo bridge (one of the bridges crossing Han river) every night. I wonder what gave them the idea, it was so simple, but beautiful. And the fact that it was only a river but attract so many people to come there is of course awesome.
Like of course, the little self-proclaimed artist in me love this country so much for being so artistic. Like I've said, I spent 3 days in hongdae, which was the central of the art in Seoul, but that doesn't mean it is the only artistic place in Seoul. Of course not. In fact, even their make up packaging is artsy, their cafes interior are artsy, wait... even the river is artsy...
So you see, I'm not talking about the boy/girl bands because honestly, I'm just too old for that, although I have to agree their songs are catchy. If you ask me, though, I love their indie band more. Well, I have this certain weakness towards indie bands, doesn't matter where it come from. And also I'm not talking about Gangnam Style either, because why would I? I've spent a month there listening to it almost everywhere because that's one perfect summer song, but then I came back and it just hit the world how catchy it is and suddenly Psy is everywhere and I was like... 'uh-oh... this song again'.
Anyway, I hope this post doesn't sound too korea-centered, because I only want to point out how a country which suffered from crisis several years ago now had came up and stand strong practically against the world.
Have I told you nobody uses google in Korea? They use their own called Naver. I just admire how strong it stands on their own feet, well.. it was just my 2 cents.